Barber Industries, Inc.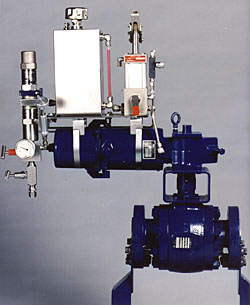 Hydraulically Operated, Spring-Opposed Actuation Systems
No external source of actuation energy required:
No Flow Line Power
No Compressed Air
No Natural Gas
No Electricity
No Nitrogen
Barber manufactures actuation systems for:
Reverse Acting Gate Valves
Direct Acting Gate Valves
Quarter Turn Ball Valves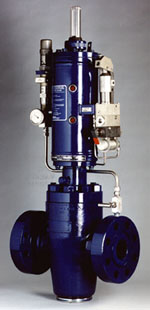 MODEL "RA" VALVE ACTUATORS
The Model RA (Reverse Acting) actuators and associated control systems are intended for applications on valves where the actuator compression spring is used to pull the stem of the valve outwards to supplement the pressure inside the valve acting on the unbalanced area of the stem pushing the stem outwards.
MODEL "DA" ACTUATORS
The Model DA (Direct Acting) actuators and control systems are specifically intended for use with valves that are CLOSED by pushing the valve stem into the valve. The thrust required to force the stem into the valve stem against the fluid pressure inside the valve body, and to close the valve, is provided by a compression spring.

Barber-Rotork Model "HQSP" & "HQH" Actuators
Barber-Rotork Model "HQ" hydraulic self-contained, spring return actuation systems operate without the need of any external source of actuation energy. These systems operate unattended outdoors, in all climatic environments.
They require intervention only to manually re-pump the actuator in the event of a signaled hydraulic fluid release to the reservoir.
The model "HQH" actuator and control system is supplied complete with a high pressure hydraulic "Presco Pump Module". The maximum working pressure of the actuator is 3000 P.S.I. with a maximum spring break torque available of 308,720 in. Ib.
The high pressure hydraulic "Presco Pump Module" also provides a 150 PS.I. maximum control pressure output, as well as 3000 P.S.I. maximum working pressure actuator output.